Corporate & Business Uniforms Sydney

Advance Design is trusted by leading companies across Australia to design and deliver uniforms that reflect their brand values and staff love to wear.
Whether you're a private company or a public organisation, having a corporate uniform shows that you mean business.Sydney corporate clothing specialists, Advance Design, have an excellent reputation built on over 50 years of trading, for designing and delivering the kind of corporate uniforms Sydney staff need to present a professional image in their business dealings.
When they wear our business uniforms, your staff will not only feel a sense of pride in belonging to your organisation, but they're a natural showcase for your business brand and your business ethos.
Quality corporate clothing in Sydney from the corporate clothing specialists
Five decades of experience as corporate uniform suppliers in Sydney has allowed us to perfect the range and quality of our corporate clothing.
Our selection includes everything from stock items such as basic office clothes that you can mix and match to create your own company uniform, through to bespoke garments that can be manufactured in line with your business branding.
Whether you simply want a stylish but practical receptionist uniform for your medical or dental practice, or you need a bespoke corporate uniform solution for your bank, building society or franchise chain, get in touch with us here at Advance Design.
We'll help you to create your own unique office uniform
The first thing you'll notice about our range of corporate clothing, is the extensive range of basic items that can be mixed and matched to create a classic office uniform for all your staff.
And, whether you're looking for men's corporate clothing or women's corporate clothing, you'll be spoilt for choice at Advance Design.
However, if you require a uniform that's totally unique to you, we'll help you to develop a corporate wardrobe for your staff that represents your brand.
Buy your Sydney corporate clothing online from Advance Design
We've made it easier than ever to buy your corporate clothing online. Our ordering process is easy to follow, plus we offer a flexible exchange scheme.
And, whether you decide to opt for off-the-shelf or bespoke corporate clothing, we offer staff fittings to ensure that the uniforms fit your staff exactly.
You can also take advantage of our tailor-made procurement system, which takes care of the employee management and uniform administration.
We'll create the perfect corporate wardrobe for your staff
Our bespoke corporate clothing design service gives you access to our talented design and procurement team who'll work with you to develop clothing that's practical, contemporary, and fit-for-purpose.
Our strong production partnerships enable us to offer lead times of 10 days for urgent items, although we do use overseas factories to ensure cost savings and continuity of supply.
Contact your local Sydney corporate clothing supplier
To find out more about how your local corporate clothing supplier in Sydney can help you with your corporate uniform, contact us now on 1800 639 611.
Advance Design specialises in Aged Care Uniforms, Healthcare Uniforms, Corporate Uniforms & Custom Design Uniforms.
Corporates
Set the benchmark in your corporate environments, at events and exhibitions and out on the road.  The right uniform will instil a sense of pride and sophistication reflective of your brand.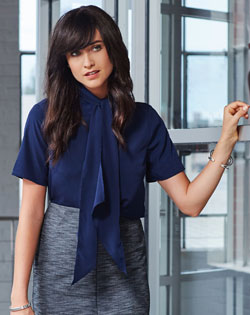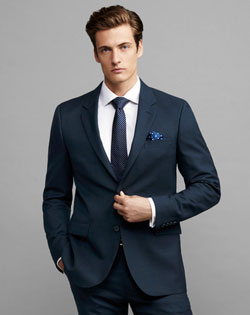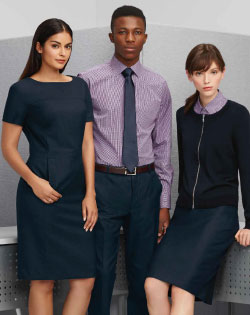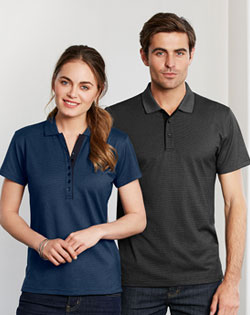 Franchises
Its essential to a successful franchise that staff across all franchises represent your brand seamlessly so that customers are able to recognise and trust your brand throughout your franchise network.
Banks and Credit Unions
Trust is important when you're dealing with people's money. So it's no surprise that consistently branded, stylish uniforms are essential to building consumer trust in your financial brand.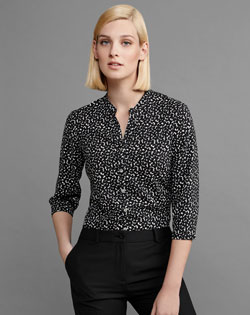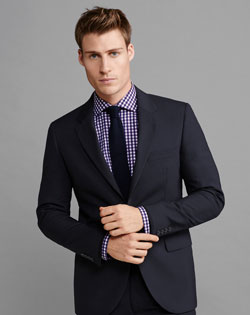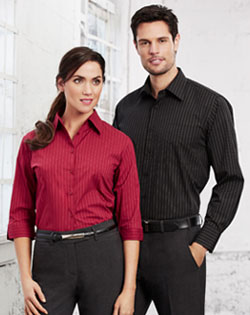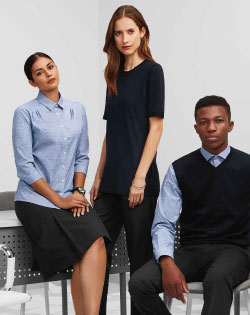 Local Government
Council teams, transport services, lifeguards, aquatic centres and more …. Our product range caters for all staff within a local government environment with stock-service or custom made garments manufactured to specification. We offer our clients a generous warranty period and a flexible exchange policy to ensure the perfect fit.
Sample Gallery
This is just a small sample of the uniforms we are able to provide. Call us today on 1800 639 611 – we can help source what you're looking for and find the solution that is right for you! Alternatively we are able to provide custom made, bespoke uniforms that meet every requirement … the choice is yours!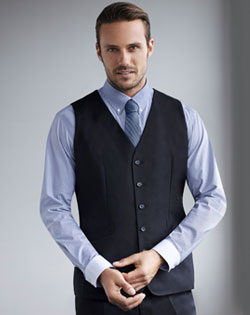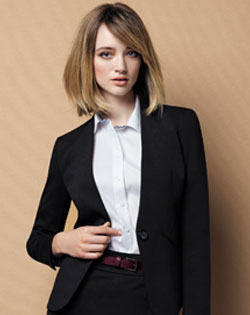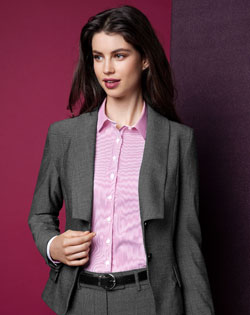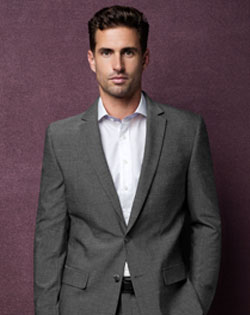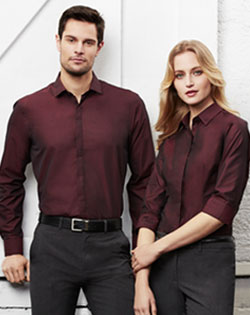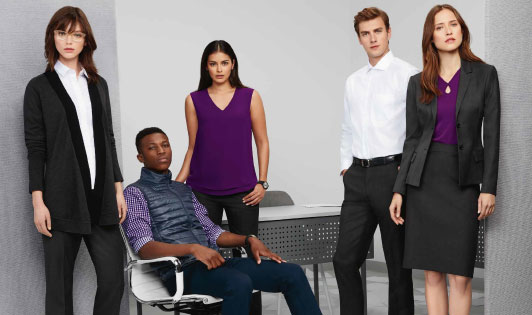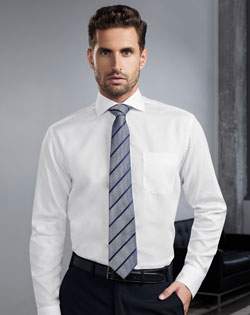 We understand your industry and what matters most to you and your staff.
Our team of uniform experts offer the industry's leading style support to ensure your uniform programme sets distinction and style. Benefit from our industry experience as we work hand-in-hand with you to develop a wardrobe to complement your brand; fit-for-purpose with the comfort, durability and functionality we understand corporate staff require.
Face-to-face management to the highest standards
We understand that our clients require their suppliers to demonstrate a strong management structure as well as practical policies and procedures to ensure on-time and in-full deliveries. This is one reason why Advance Design is committed to achieving ISO 9002 accreditation for Management Systems.
Advance Design has been trusted for 50 years to deliver quality uniforms to the highest standards.
We embrace a time honoured formula for success in corporate uniforms and will help you find the right uniform for your needs.
Our local production facilities allow us to deliver within 10 working days whilst our overseas manufacturing alliances in China and Vietnam ensure you receive the most competitive solution and guarantee continuity of supply.
We have eliminated the burden of stock-room investments by providing you with the most integrated procurement solution in the industry.
Our team is passionate about creating the right look for your business and our styling service is amongst the best on offer to any industry. We ensure a balance between budget considerations, staff needs and style.
Advance Design offers face-to-face account management including pre-sale consultation, uniform-fitting services and ongoing monitoring of garment performance and customer needs.
We carry out personalised, onsite fittings for new uniform programs to ensure the right fit and foster goodwill with your staff.
We understand the challenges of uniform hand out day and have created individual employee packs to simplify the coordination and make this process a breeze.
Uniform ordering and management made easy
For the uniform administrator, placing orders, remembering sizes and managing allocations and budgets in corporates, franchises, banks, credit unions or local governments can be tedious and time-consuming.
To make it as easy as possible, we have created the industry's most integrated online procurement solution.
A complimentary system designed to save you time and to guarantee you will never spend more than your budget. Our system takes care of sizing, uniform allowances, ordering annual allocations and budgeting.
TESTIMONIALS
We are very satisfied with Advance Design – they listen to us and have delivered on all their promises. We've been impressed with the level of communication from the team. If stocks are low or delayed, there are always plans in place to meet our requirements. They visit us regularly and give us fast turnaround.

HR Manager | BCU Credit Union

We find the ordering system really user friendly and it makes it easy to keep track of entitlements. The team at Advance Design are always responsive to our queries and they do everything possible to meet our needs. It's easy to access their people and they work well with our stakeholders, too.

Procurement Manager | Anglican Retirement Villages

The overall solution was what we were after. Kristi and Ray 'got' what we were trying to achieve. The online store is also very impressive. From the very first meeting, Kristi and Ray made everything so easy and I never felt like any request was an issue. The staff look amazing, which reflects in their work and customer service. Updating a uniform doesn't have to be such a tedious experience. Working with the right suppliers can actually make this part of the job a more pleasant experience. The fitting service makes it all so much simpler and less room for error.

Executive Assistant to the CEO | Pittwater RSL

Advance Design know their products and any advice will be of benefit. They make sure they take into account the number of different heights, shapes and sizes. Not one style suits all! Advance Design have always provided us with great service and their prices are always competitive. The staff look great and feel great. The Barco scrubs were of a better finish … drip dry, no ironing and little creasing … had the right amount of pockets and colours were chosen for different gradings … RN, AIN, EN. We are very happy with all of the service and products we have received from Advance Design. We will be using them in the future as the team have always gone that bit further.

HR Manager | Toukley Family Practice | Warnervale GP Superclinic | Mariners Medical | Tuggerah Medical Centre
APPROVED CONTRACTOR
Advance Design is a local government procurement, approved contractor.
UNDER CONTRACT NPN211-2 CORPORATE WARDROBE.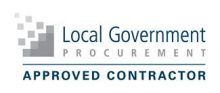 Bespoke Design and Manufacturing
Changing a colour or adding a trim may give you a different look, but when you need a truly bespoke design to enhance your brand, Advance Design can deliver.
From initial sketch to the finished product, we achieve an outcome that reflects your vision.
All of our bespoke designs are manufactured in controlled factory environments and are not outsourced to the general market.