Clubs & Hospitality Uniforms Melbourne

Advance Design has been trusted for 50 years to deliver an image that will impress your patrons and quality club uniforms your staff love to wear.
As the leading supplier of hospitality clothing Melbourne has available, Advance Design have a well-earned reputation for providing the kind of durable hospitality uniforms Melbourne staff need to look good and stay comfortable while they work.
For over 50 years, we've been designing and delivering all manner of hospitality garments, from waitress uniforms to chef clothing at prices to suit every budget.
No matter what colour or style of garments you require, you'll find exactly what you need right here at Advance Design, Melbourne's top hospitality clothing suppliers.
Garments for all job roles, from your kitchen team to your waiters and bar staff
Take a look at our selection of clothing and you'll see that we have a uniform for everyone. Whether you need chef uniforms, restaurant uniforms or uniforms for your reception staff and management, you'll discover a range of modern and stylish garments, which are comfortable and durable too.
They're the perfect way to give your business a professional edge, whether you need aprons for your baristas or you need an outfit for your restaurant manager.
Our licenced club, bar and kitchen uniforms are the perfect way to give your staff a unified look and to promote your brand at the same time. It's no wonder that we're known as the supplier to use when you want quality hospitality clothing in Melbourne.
Kit out your staff in modern and stylish wait staff uniforms or bar uniforms
It's well known that staff work better when they feel that they're valued and that they make an important contribution to the team. And choosing to give your staff a quality, stylish uniform is one way to get them on board with your brand and your business ethics.
Our pub uniforms and gaming uniforms will ensure that your staff are visible and look smart and professional as they work, while keeping them cool and comfortable when things start to heat up.
A personalised service for you from the Melbourne hospitality clothing specialists
With years of experience in supplying quality hospitality clothing, we've done all we can to make the process easy for you.
There's a multitude of styles, colours and sizes to choose from, we offer a 10-day lead time, plus we can even set up an online store so you can easily manage your uniforms and don't need to carry stock. We offer maternity options for your female staff, plus accessories such as scarves, ties and name badges.
And, with uniforms to suit all budgets, it's hardly surprising that we're the supplier of hospitality garments Melbourne businesses choose to ensure their staff is stylishly dressed.
Contact Melbourne uniform suppliers, Advance Design for more information
If you'd like to know more about our standard hospitality clothing or you'd like to request a custom-design waiter uniform or a bespoke licenced club uniform, Advance Design will be happy to help.
Call now on 1800 639 611 and speak to our customer service team.
Advance Design specialises in Aged Care Uniforms, Healthcare Uniforms, Corporate Uniforms & Custom Design Uniforms.
Licensed Clubs
Expectations from club patrons have increased in recent times. A good impression can easily be achieved with our modern and stylish range of club uniforms.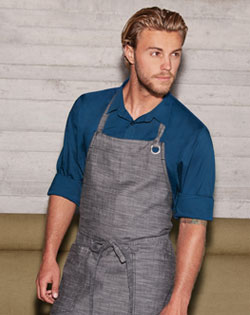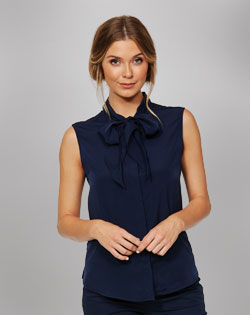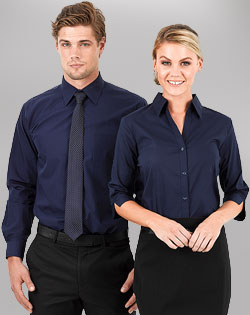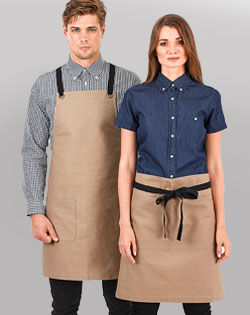 Pubs & Hotels
Present your establishment in its best light with a stylish and modern uniform that sets you part from your local competitors. Creating a solution with a balance between comfort, durability, budget and style is key.
Restaurants
In a demanding and competitive business, presentation is a key factor to success. Stylish, cutting edge uniforms and aprons aid in presenting a team of professionals from the kitchen through to the front of house .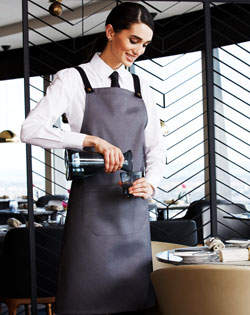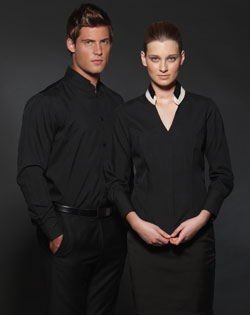 Sample Gallery
This is just a small sample of the uniforms we are able to provide. Call us today on 1800 639 611 – we can help source what you're looking for and find the solution that is right for you! Alternatively we are able to provide custom made, bespoke uniforms that meet every requirement … the choice is yours!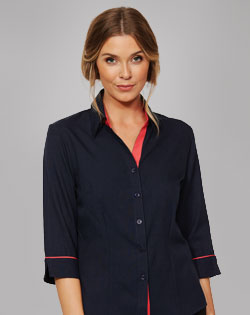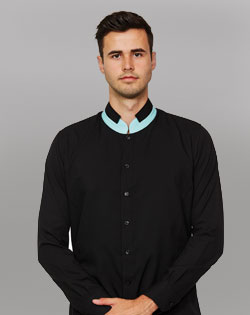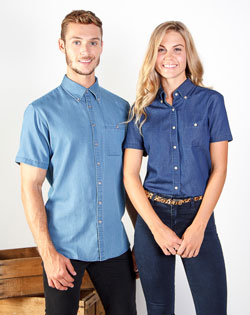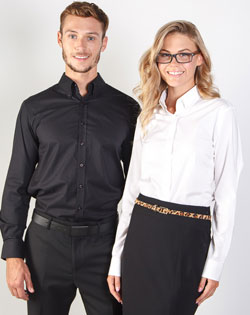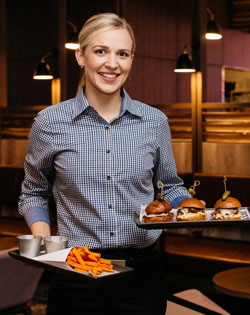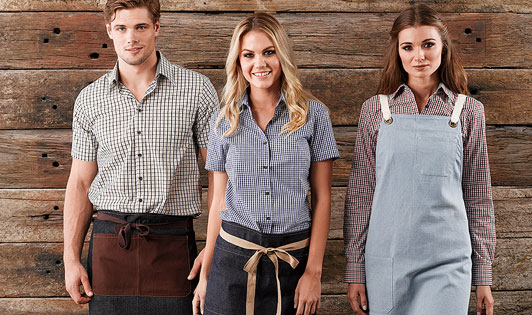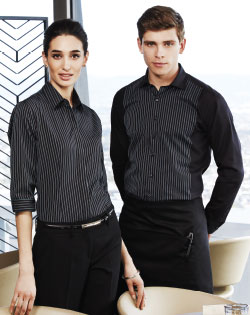 We understand your industry and what matters most to you and your staff.
Our team of uniform experts offer the industry's leading style support to ensure your uniform programme sets distinction and style. Benefit from our industry experience as we work hand-in-hand with you to develop a wardrobe to complement your brand; fit-for-purpose with the comfort, durability and functionality we understand club & restaurant staff require.
Advance Design has been trusted for 50 years to deliver quality uniforms that last.
We embrace a time honoured formula for success in club and hospitality uniforms and will help you create the ideal uniform solution for your brand and staff.
Why choose Advance Design for your uniforms?
We appreciate the demands placed on fabrics in a hospitality environment and the transient nature of casual staff.
We offer a 10 day delivery lead-time and can eliminate the burden of stock-room investments by provisioning a tailor-made online store for your club.
Our team is passionate about creating the right look for your venue and our styling service is amongst the best on offer to any industry. We ensure a balance between budget considerations, staff needs and style.
We specialise in creating a theme or look across multiple departments and venues whilst setting distinction to suit individual roles
The fitting process is critical to ensuring staff present at their best. Each staff member is offered a personal fitting and styling consultation during the implementation phase. To complete the club uniform package, we offer maternity options, employee name badges, ties and scarves; all with custom branding for your venue.
We understand the challenges of uniform hand out day and have created individual employee packs to simplify the coordination and make this process a breeze
Uniform ordering and management made easy
For the uniform administrator, placing orders, remembering sizes and managing allocations and budgets in clubs and hospitality can be tedious and time-consuming.
To make it as easy as possible, we have created the industry's most integrated online procurement solution.
A complimentary system designed to save you time and to guarantee you will never spend more than your budget. Our system takes care of sizing, uniform allowances, ordering annual allocations and budgeting.
TESTIMONIALS
We are very satisfied with Advance Design – they listen to us and have delivered on all their promises. We've been impressed with the level of communication from the team. If stocks are low or delayed, there are always plans in place to meet our requirements. They visit us regularly and give us fast turnaround.

HR Manager | BCU Credit Union

We find the ordering system really user friendly and it makes it easy to keep track of entitlements. The team at Advance Design are always responsive to our queries and they do everything possible to meet our needs. It's easy to access their people and they work well with our stakeholders, too.

Procurement Manager | Anglican Retirement Villages

The overall solution was what we were after. Kristi and Ray 'got' what we were trying to achieve. The online store is also very impressive. From the very first meeting, Kristi and Ray made everything so easy and I never felt like any request was an issue. The staff look amazing, which reflects in their work and customer service. Updating a uniform doesn't have to be such a tedious experience. Working with the right suppliers can actually make this part of the job a more pleasant experience. The fitting service makes it all so much simpler and less room for error.

Executive Assistant to the CEO | Pittwater RSL

Advance Design know their products and any advice will be of benefit. They make sure they take into account the number of different heights, shapes and sizes. Not one style suits all! Advance Design have always provided us with great service and their prices are always competitive. The staff look great and feel great. The Barco scrubs were of a better finish … drip dry, no ironing and little creasing … had the right amount of pockets and colours were chosen for different gradings … RN, AIN, EN. We are very happy with all of the service and products we have received from Advance Design. We will be using them in the future as the team have always gone that bit further.

HR Manager | Toukley Family Practice | Warnervale GP Superclinic | Mariners Medical | Tuggerah Medical Centre
Bespoke Design and Manufacturing
Changing a colour or adding a trim may give you a different look, but when you need a truly bespoke design to enhance your brand, Advance Design can deliver.
From initial sketch to the finished product, we achieve an outcome that reflects your vision.
All of our bespoke designs are manufactured in controlled factory environments and are not outsourced to the general market.