Aged Care Uniforms Adelaide

Advance Design is Australia's aged care uniform specialist. Servicing all sectors of the aged care industry we are trusted to deliver an image that will impress and uniforms your staff love to wear.
One way to add a professional element to your residential care and home care brands whilst making your staff feel valued is to provide all your staff with special care clothing.
Advance Design specialises in designing and delivering a quality range of aged care uniforms in Australia at price points to suit every budget.
And, with over 50 years' experience in supplying care uniforms in Adelaide, we've become the leading supplier of care uniforms Adelaide has available.
The premier supplier of nursing home clothing in Adelaide
We know that all staff want the same thing from their uniforms. They want them to be comfortable, practical and fit for purpose, but stylish and modern too.
That's why we offer such a wide choice of garments to ensure that everyone, no matter what their job role, can find a uniform that will enable them to do their job and still feel professional.
By supplying well-made modern uniforms in durable fabrics that are easy to keep looking fresh, we've become the company for home care clothing Adelaide care homes prefer for clothing their staff.
Nursing home uniforms for everyone in your care home
Take a look at our selection of uniforms and you'll see that we really are your one-stop shop for all your Adelaide nursing home uniforms. We offer an extensive range of colours, styles and uniforms for everyone in your care home, from your auxiliary workers and nursing team right through to your admin and reception staff.
You can choose from tunics, tops and blouses, pants and skirts, scrubs, aprons and accessories in a myriad of colours to perfectly represent your brand.
And if you need some help in deciding on the perfect uniform for your care home, our expert team are on hand to discuss your needs and offer suggestions, or to help you to design custom made care home uniforms.
Add an extra level of professionalism with distinctive nursing home clothing
When you choose to have a uniform within your care home, you'll not only be adding an extra level of professionalism to your business, but you'll be showing your staff that you value them and their work too.
Furthermore, by supplying their staff with quality nursing home clothing Adelaide care home owners and managers have seen that the morale of their staff is improved too, as it engenders a feeling of really being part of a team and of a business that cares about their employees.
Need help choosing your Adelaide care home uniforms?
If you require help to develop a comprehensive uniform for your staff or need advice on any of our care home uniforms, Adelaide uniform specialists Advance Design would love to hear from you.
Whether you need, a care uniform, a caregiver uniform or something for your receptionist, call us now on 1800 639 611 and speak to a member of our customer service team.
Advance Design specialises in Aged Care Uniforms, Healthcare Uniforms, Corporate Uniforms & Custom Design Uniforms.
Nursing Staff
Comfortable, durable and iron-free is the feedback. Our range of Barco medical tunics, pants and scrubs deliver the most comfortable and professional solution for your busy nursing staff.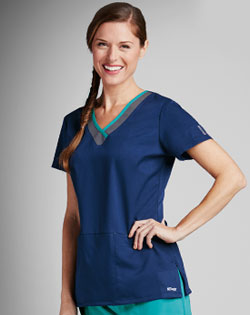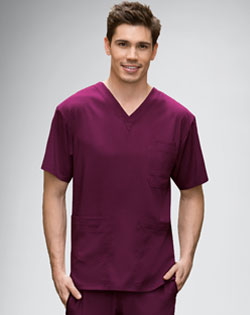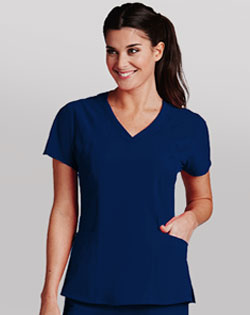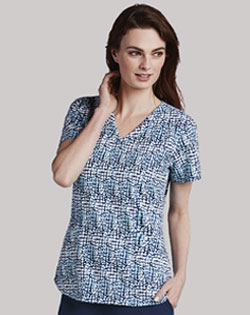 Residential & Community Care
Comfortable, happy staff deliver the best care for your clients. Create a professional look to reflect your brand with the comfort your valued care workers deserve.
Allied Health
Assisting clients through their path to recovery can be a physically demanding job. Ensuring the appropriate uniform for the job is one of our specialties.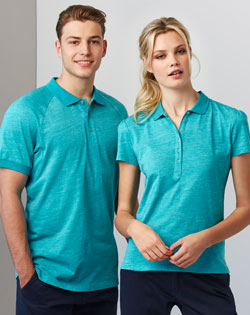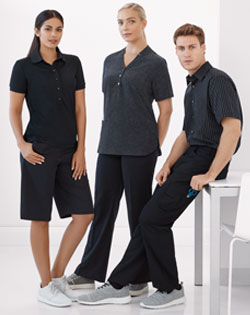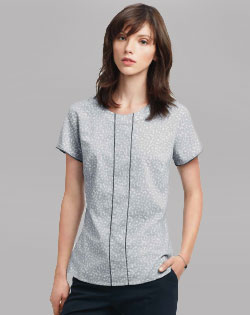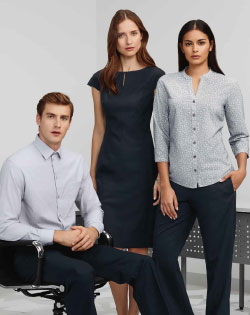 Administration Staff
Professionalism is at the core of aged care services and our range of uniforms will promote your business in a professional and stylish manner.
Recent Projects
Watch our videos to see the results of our latest projects. Highlighting solutions that compliment each customer's branding and garments that are fit-for-purpose using colour to define roles from clinical and care through to admin staff.
Sample Gallery
This is just a small sample of the uniforms we are able to provide. Call us today on 1800 639 611 – we can help source what you're looking for and find the solution that is right for you! Alternatively we are able to provide custom made, bespoke uniforms that meet every requirement … the choice is yours!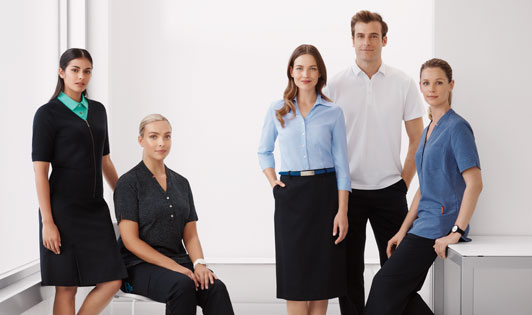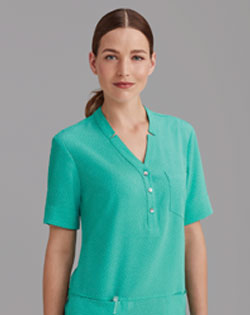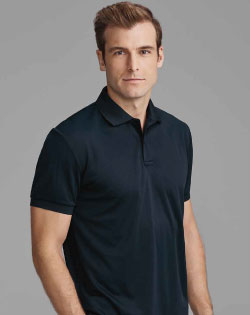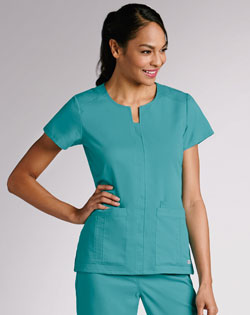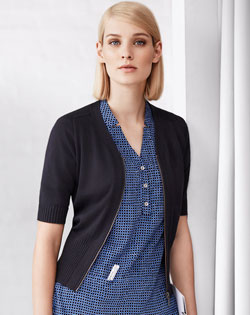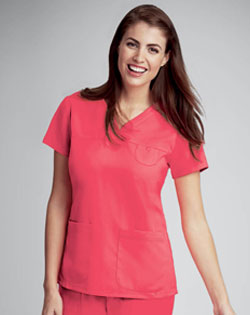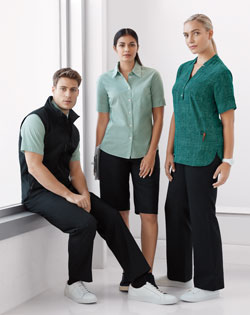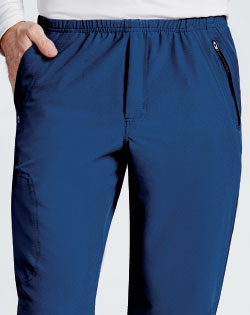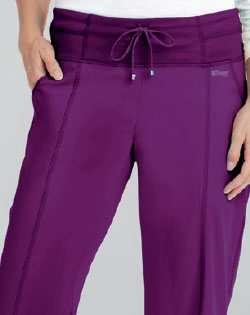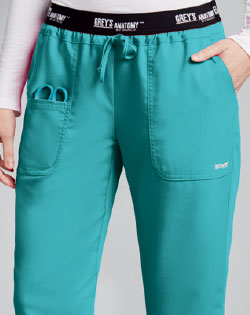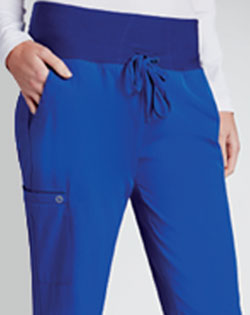 We understand aged care and what matters most to you and your staff.
Our team of uniform experts offer the industry's leading style support to ensure your uniform programme sets distinction and style. Benefit from our industry experience as we work hand-in-hand with you to develop a wardrobe to complement your brand; fit-for-purpose with the comfort, durability and functionality we understand aged care professionals require.
Advance Design has been trusted for 50 years to deliver quality uniforms that last.
We embrace a time honoured formula for success in aged care uniforms and will help you create the ideal uniform solution for your brand and staff.
Our range of uniforms offer the following features:
Modern and stylish products that look and feel amazing, build your brand and inspire confidence.
Easy care, iron free, fade resistant fabrics.
Innovative technology including stain/liquid resistance and infection control.
Made from cool and comfortable fabrics.
Quality stitching and generous design cuts to ensure freedom of movement and no irritations – comfortable to wear in any aged care facility and clients' homes.
Colours to match or complement your brand and uniform requirements.
Options to create a consistent theme with points of difference by department/role.
The most comfortable carers pant you will ever wear.
Many styles to choose from in both upper and lower garments.
Custom-made solutions to expand your options.
Uniform ordering and management made easy
For the uniform administrator, placing orders, remembering sizes and managing allocations and budgets in aged care can be tedious and time-consuming.
To make it as easy as possible, we have created the industry's most integrated online procurement solution.
A complimentary system designed to save you time and to guarantee you will never spend more than your budget. Our system takes care of sizing, uniform allowances, ordering annual allocations and budgeting.
TESTIMONIALS
We are very satisfied with Advance Design – they listen to us and have delivered on all their promises. We've been impressed with the level of communication from the team. If stocks are low or delayed, there are always plans in place to meet our requirements. They visit us regularly and give us fast turnaround.

HR Manager | BCU Credit Union

We find the ordering system really user friendly and it makes it easy to keep track of entitlements. The team at Advance Design are always responsive to our queries and they do everything possible to meet our needs. It's easy to access their people and they work well with our stakeholders, too.

Procurement Manager | Anglican Retirement Villages

The overall solution was what we were after. Kristi and Ray 'got' what we were trying to achieve. The online store is also very impressive. From the very first meeting, Kristi and Ray made everything so easy and I never felt like any request was an issue. The staff look amazing, which reflects in their work and customer service. Updating a uniform doesn't have to be such a tedious experience. Working with the right suppliers can actually make this part of the job a more pleasant experience. The fitting service makes it all so much simpler and less room for error.

Executive Assistant to the CEO | Pittwater RSL

Advance Design know their products and any advice will be of benefit. They make sure they take into account the number of different heights, shapes and sizes. Not one style suits all! Advance Design have always provided us with great service and their prices are always competitive. The staff look great and feel great. The Barco scrubs were of a better finish … drip dry, no ironing and little creasing … had the right amount of pockets and colours were chosen for different gradings … RN, AIN, EN. We are very happy with all of the service and products we have received from Advance Design. We will be using them in the future as the team have always gone that bit further.

HR Manager | Toukley Family Practice | Warnervale GP Superclinic | Mariners Medical | Tuggerah Medical Centre
EXCLUSIVE RANGE
Advance Design is proud to be the exclusive importer of Barco Uniforms the world's leading brand of medical uniforms, scrubs and carers pants, for Australia and New Zealand.
INCLUDING BARCO ONE and THE GREY'S ANATOMY UNIFORM LINES.
INDUSTRY MEMBERSHIP
Advance Design is an associate member of Aged & Community Services NSW and ACT
WE ARE DEEPLY INVOLVED IN THE INDUSTRY AND UNDERSTAND THE SPECIAL FACTORS THAT COME ONLY WITH EXPERIENCE.


Bespoke Design and Manufacturing
Changing a colour or adding a trim may give you a different look, but when you need a truly bespoke design to enhance your brand, Advance Design can deliver.
From initial sketch to the finished product, we achieve an outcome that reflects your vision.
All of our bespoke designs are manufactured in controlled factory environments and are not outsourced to the general market.